The products of the hive have been consumed by mankind since its inception. There is a large body of evidence that shows that the first human settlements consumed these products; Not only have they been used as food, for centuries they have been used for their therapeutic benefits (1–3). Among the products of the hive are honey, pollen, royal jelly and propolis.

Bee pollen is the result of agglutination of flower pollen grains combined with nectar and enzymatic products of bees (4). According to the population of plants found in the region where pollen is harvested, its composition also varies, that is, there are multiple varieties of bee pollen. Bee pollen as food is used in different presentations: bee pollen, combined with honey, ethanolic extract and as part of bee bread. Although it is not consumed as often as honey, it is still interesting. As will be presented later, it is a food of high biological and therapeutic value.

Colombia: perfect scenario for bee pollen production
Colombia is a country with a wide diversity of plant species thanks to its privileged location that allows it to have all the thermal floors (5). This characteristic is especially important in terms of pollen production due to the possibility of accessing different varieties derived from different species. Colombian bee pollen is valued in the world for its floral diversity despite its low production. According to data from the FAO (Food and Agriculture Organization of the United Nations) in Colombia, 2,000 tons of bee pollen can be collected per year. Despite Colombia's potential, its biodiversity and its potential, it ranks 64th in the world in terms of installed hives. There is indeed a limited interest of the political community, industry and even society in general about the care and cultivation of bees. Despite this, over time there has been a progressive increase in installed hives (see figure 1).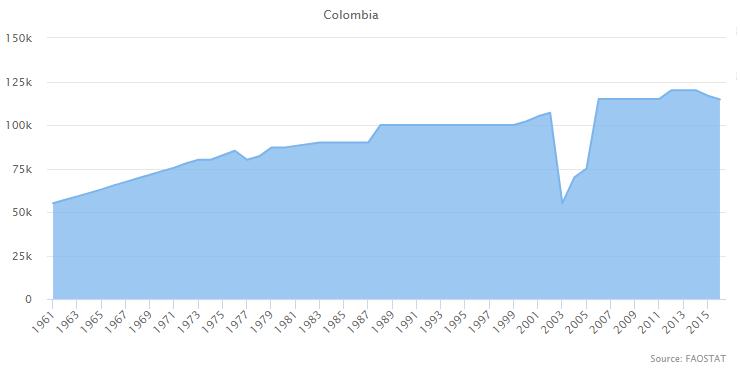 Bee pollen in several Colombian locations is particularly rich in vegetal species, more than 80 varietals can contribute to its composition, a high percentage of them with relevant therapeutic properties (6).

Bee pollen contains several bioactive compounds
The composition of the pollen can vary, to a large extent this is explained by the different floral varieties that a bee visits for its production; Despite this, the following components have been described:

| | |
| --- | --- |
| Component | Composition percentage |
| Carbohydrates | 13% – 55% |
| Proteins | 10% – 40% |
| Lipids | 1% – 10% |
| Fiber | 0,3% – 10% |
| Other components | 1% – 7% |
Table 1. Pollen composition. Source: own elaboration based on (7).
Bee pollen has all the essential amino acids necessary for human beings: histidine, isoleucine, leucine, lysine, methionine, phenylalanine, threonine, tryptophan and valine. The carbohydrates of which it is composed are mainly fructose and glucose and the lipids are unsaturated fatty acids. Although these are found in varying amounts, their presence in the pollen has allowed it been known as a perfect food (8,9).

Other components of bee pollen are no less important and show therapeutic activity. First of all, the content of vitamins and minerals that pollen possesses must be taken into account, within which are the vitamins of group B, vitamin C, vitamin E, magnesium, calcium, iron, zinc and manganese (4,10) . It is also considered a good source of omega 3, 6 and 9 (polyunsaturated) fatty acids (11). The consumption of this type of fatty acids has shown benefits for the prevention and treatment of diseases such as cardiovascular disease, osteoarthritis, arthritis and cancer (12).

Bee pollen also contains polyphenolic and flavonoid compounds. Among the flavonoids that have been described are quercetin, kaempferol and isorhamnetine in up to 5% of its composition (13). About 0.2% of its composition corresponds to polyphenolic compounds (14). To a large extent these components explain the therapeutic benefits of bee pollen.
Therapeutic value of pollen

Bee pollen is a food with great potential in the field of prevention and treatment of different diseases that affect humanity. The benefits of regular pollen consumption are mentioned below:

| | | |
| --- | --- | --- |
| Effect | Mechanism | Reference |
| Nutrition | Source of proteins and essential amino acids | (13) |
| Antioxidant | Prevent negative effects of oxidant agents | (15) |
| Cardioprotector | Can reduce blood pressure, reduce cholesterol levels in blood | (16, 17) |
| Hepatoprotection | Reduce toxic effects of chemical agents over liver | (18) |
| Anti Inflammatory | Inhibit COX- 2 | (19) |
| Antibacterial | A broad antibacterial activity on different species including S. aureus has been documented. This effect makes bee pollen particularly important for the management of burn wounds | (20) |
| Antineoplastic | prevents neoplastic mutations in cells and has antineoplastic activity in different types of cancer | (21) |
| Anti anemic | contributes to increase blood hemoglobin levels | (13) |
| Effects on the bone | reduces bone loss in osteoporosis | (22) |
| Aging | reduces telomere shortening and the aging rate of different cell populations | (23) |
Table 2. Therapeutic value of pollen.
As you can see the effects of pollen are numerous and interesting. Regular consumption of pollen could contribute to a better state of health in the population.
Bee pollen, malnutrition and food safety

The benefits of bee pollen on the nutritional status of human beings are evident. The composition of pollen allows us to think about its possible benefits on protein-caloric malnutrition. In Colombia, according to the 2015 National Survey of Nutritional Situation (ENSIN in Spanish), 54% of households are in a situation of food insecurity, in fact the departments far from the center of the country show a more complex situation, however, in The entire country reports a range greater than 39% of households (24).

The negative effects of malnutrition are well known, being critical during the first years of life since it affects the neurological development and growth of children (25). Many cases of infant mortality still occur in Colombia as a result of the state of malnutrition (26); The search for alternatives to combat it is fully justified and is an objective of the whole society.

The nutritional characteristics of pollen suggest its usefulness in preventing and controlling malnutrition. Its content of essential amino acids, proteins, fats and carbohydrates, as well as its caloric intake make it a useful alternative (8). Although there is little scientific evidence to assess its impact, animal models have shown, for example, that its use during pregnancy improves fetal growth, maternal weight control, hemoglobin levels and reduces fetal mortality (27).

The beneficial effect of bees and beekeeping (bee cultivation) on food security is also well known, according to FAO estimates the pollination service performed by bees has a value of at least 20 times the commercial value of products of the hive consumed by humans (28). In Colombia there are few references in this regard, a study conducted at the National University of Colombia on two fruit species showed that without the implementation of changes in production, bees provide a pollination service whose value is at least equivalent to the utility that is obtained with the commercialization of fruits (29).

The pollination carried out by bees is essential to guarantee the production of food throughout the world. The use of natural pollination of bees in agriculture is now considered a sustainable and effective element to ensure access and food production; the negative involvement of bees leads to greater poverty and less food production worldwide (30). The use of agrochemical agents as well as excessive agribusiness today has threatened bees worldwide, putting their ecological functions at risk (31). Pollen production in the world favors the ecological functions that bees fulfill. The consumption of pollen as food, then, in addition to bringing nutritional benefits and the health status of people, also promotes sustainable agriculture, access to food and biodiversity.
Conclusion

The ecological function of bees is important in the world, its activity allows to guarantee the production of food and plant species throughout the world. Bee pollen is one of the products of the hive with important effects on the nutrition and health of human beings. Pollen is an ideal food because it contains essential proteins and amino acids, carbohydrates and fatty acids necessary for the functioning of the body. Therapeutic properties of bee pollen on the cardiovascular, osteo-muscular system, blood, hematopoietic and skin have been documented. According to the available scientific evidence there are reasons why the introduction of pollen into the usual eating habits of the population should be recommended.


If you liked this article, we invite you to share it and subscribe in the "Newsletter" link to receive more information and related content.

Bibliographic references
Kumar Gupta R, Khan MS, Srivastava RM, Goswami V. History of beekeeping in developing world. In: Beekeeping for Poverty Alleviation and Livelihood Security: Vol 1: Technological Aspects of Beekeeping. 2014. p. 3–62.
Prioreschi P. Alternative medicine in ancient and medieval history. Med Hypotheses [Internet]. 2000;55(4):319–25. Available from: http://www.ncbi.nlm.nih.gov/pubmed/11000060
Smith RD. Avicenna and the Canon of Medicine: a millennial tribute. West J Med. 1980;133(4):367–70.
Campos MGR, Bogdanov S, de Almeida-Muradian LB, Szczesna T, Mancebo Y, Frigerio C, et al. Pollen composition and standardisation of analytical methods. J Apic Res [Internet]. 2008 Jun 1;47(2):154–61. Available from: http://www.ibra.org.uk/articles/Pollen-composition-and-standardisation-of-analytical-methods
Rangel-ch JO. La biodiversidad de Colombia. Palimpsestos [Internet]. 2005;5:292–304. Available from: http://scholar.google.com/scholar?hl=en&btnG=Search&q=intitle:La+biodiversidad+de+Colombia#6
Ortiz D, Nates-Parra G. Procedencia Botánica del Polen de la miel Almacenada por Apis mellifera en Alrededores de la Sabana de Bogotá II: Polen en la MieL. Agron Colomb. 1987;IV:39–42.
Bogdanov S. Pollen : Production , Nutrition and Health : A Review. Bee Prod Sci [Internet]. 2014;(February):1–35. Available from: www.bee-hexagon.net
Frias BED, Barbosa CD, Lourenço AP. Pollen nutrition in honey bees (Apis mellifera): impact on adult health. Apidologie. 2016;47(1):15–25.
Roulston TH, Cane JH. Pollen nutritional content and digestibility for animals. Plant Syst Evol [Internet]. 2000;222(1–4):187–209. Available from: http://link.springer.com/10.1007/BF00984102
HERBERT EW, SHIMANUKI H. CHEMICAL COMPOSITION AND NUTRITIVE VALUE OF BEE-COLLECTED AND BEE-STORED POLLEN. Apidologie [Internet]. 1978;9(1):33–40. Available from: http://www.apidologie.org/10.1051/apido:19780103
Sagona S, Pozzo L, Peiretti PG, Biondi C, Giusti M, Gabriele M, et al. Palynological origin, chemical composition, lipid peroxidation and fatty acid profile of organic Tuscanian bee-pollen. J Apic Res [Internet]. 2017 Mar 15;56(2):136–43. Available from: https://www.tandfonline.com/doi/full/10.1080/00218839.2017.1287995
Tvrzicka E, Kremmyda L-S, Stankova B, Zak A. Fatty acids as biocompounds: their role in human metabolism, health and disease–a review. Part 1: classification, dietary sources and biological functions. Biomed Pap Med Fac Univ Palacky Olomouc Czech Repub [Internet]. 2011 Jun;155(2):117–30. Available from: http://www.ncbi.nlm.nih.gov/pubmed/21804620
Komosinska-Vassev K, Olczyk P, Kaźmierczak J, Mencner L, Olczyk K. Bee pollen: Chemical composition and therapeutic application. Vol. 2015, Evidence-based Complementary and Alternative Medicine. 2015.
Rzepecka-Stojko A, Stojko J, Kurek-Górecka A, Górecki M, Kabała-Dzik A, Kubina R, et al. Polyphenols from Bee Pollen: Structure, Absorption, Metabolism and Biological Activity. Molecules [Internet]. 2015 Dec 4;20(12):21732–49. Available from: http://www.mdpi.com/1420-3049/20/12/19800
Araújo J, Chambó E, Costa M, Cavalcante da Silva S, Lopes de Carvalho C, M. Estevinho L. Chemical Composition and Biological Activities of Mono- and Heterofloral Bee Pollen of Different Geographical Origins. Int J Mol Sci [Internet]. 2017 Apr 27;18(12):921. Available from: http://www.mdpi.com/1422-0067/18/5/921
Rzepecka-Stojko A, Stojko J, Jasik K, Buszman E. Anti-Atherogenic Activity of Polyphenol-Rich Extract from Bee Pollen. Nutrients [Internet]. 2017 Dec 18;9(12):1369. Available from: http://www.mdpi.com/2072-6643/9/12/1369
Nagai T, Inoue R, Suzuki N, Tanoue Y, Kai N, Nagashima T. Antihypertensive activities of enzymatic hydrolysates from honeybee-collected pollen of Cistus ladaniferus. J Food, Agric Environ. 2007;5(3–4):86–9.
SARAL Ö, YILDIZ O, ALİYAZICIOĞLU R, YULUĞ E, CANPOLAT S, ÖZTÜRK F, et al. Apitherapy products enhance the recovery of CCL4-induced hepatic damages in rats. TURKISH J Med Sci [Internet]. 2016;46:194–202. Available from: http://online.journals.tubitak.gov.tr/openDoiPdf.htm?mKodu=sag-1411-35
Denisow B, Denisow-Pietrzyk M. Biological and therapeutic properties of bee pollen: a review. J Sci Food Agric [Internet]. 2016 Oct;96(13):4303–9. Available from: http://doi.wiley.com/10.1002/jsfa.7729
Carpes ST, Begnini R, Alencar SM De, Masson ML. Study of preparations of bee pollen extracts, antioxidant and antibacterial activity. Ciência e Agrotecnologia. 2007;31(6):1818–25.
Andrés J-G. Cáncer Y Terapéutica Con Productos De La Colmena. Revisión Sistemática De Los Estudios Experimentales. Rev la Fac Med [Internet]. 2012;60(2):79–94. Available from: http://www.scielo.org.co/scielo.php?script=sci_arttext&pid=S0120-00112012000200002&lang=pt
Kafadar IH, Güney A, Türk CY, Oner M, Silici S. Royal jelly and bee pollen decrease bone loss due to osteoporosis in an oophorectomized rat model. Eklem Hastalik Cerrahisi [Internet]. 2012;23(2):100–5. Available from: http://www.ncbi.nlm.nih.gov/pubmed/22765489
Jannesar M, Sharif Shoushtari M, Majd A, Pourpak Z. Bee Pollen Flavonoids as a Therapeutic Agent in Allergic and Immunological Disorders. Iran J Allergy Asthma Immunol [Internet]. 2017 Jun;16(3):171–82. Available from: http://www.ncbi.nlm.nih.gov/pubmed/28732430
Instituto Colombiano de Bienestar Familiar. Resumen Ejecutivo Encuesta Nacional de la Situación Nutricional en Colombia, ENSIN 2010 [Executive Summary National Survey of Nutrition Situation in Colombia, ENSIN 2010] [Internet]. Ensin. 2010. Available from: https://www.icbf.gov.co/icbf/directorio/portel/libreria/pdf/ResumenEjecutivoAbril6de2011.pdf
Acevedo L, Menéndez S. Desnutrición infantil. Unicef [Internet]. 2006; Available from: http://www.unicef.org/republicadominicana/health_childhood_10172.htm
Flórez CE, Nupia OA. Desnutrición infantil en Colombia: inequidades y determinantes. Organ Panam la Salud [Internet]. 2001;(7):34. Available from: http://bvsper.paho.org/texcom/nutricion/D2001.pdf
Xie Y, Wan B, Li W. [Effect of bee pollen on maternal nutrition and fetal growth]. Hua xi yi ke da xue xue bao = J West China Univ Med Sci = Huaxi yike daxue xuebao [Internet]. 1994 Dec;25(4):434–7. Available from: http://www.ncbi.nlm.nih.gov/pubmed/7744390
Organización de las naciones unidas para la alimentación y la agricultura. The importance of bees in the nature [Internet]. [cited 2017 Sep 5]. Available from: ftp://ftp.fao.org/docrep/fao/012/i0842e/i0842e04.pdf
Rodríguez Calderón ÁT. Requerimientos y valor económico del servicio de polinización prestado por abejas en dos frutales promisorios colombianos, (Champa Campomanesia lineatifolia Ruiz & Pav. y Cholupa Passiflora maliformis L.). Universidad Nacional de Colombia; 2015.
Balmer J. Decline of bees and other pollinators could worsen global malnutrition [Internet]. Science Magazine. 2014 [cited 2018 Feb 20]. Available from: http://www.sciencemag.org/news/2014/10/decline-bees-and-other-pollinators-could-worsen-global-malnutrition
Greenpeace Laboratories Research. Bees in Decline put pollinators and agriculture. Greenpeace Res Lab Tech Rep. 2013;1:48.